Much has been said and discussed about lunfardo: its origins, the way it has been introduced in some of the most popular tango songs sang by porteños in Buenos Aires…This has led many people to think that lunfardo is a dialect that is not currently used when this is actually not the case. There are many popular expressions used in everyday conversations whose origin can be found in this dialect.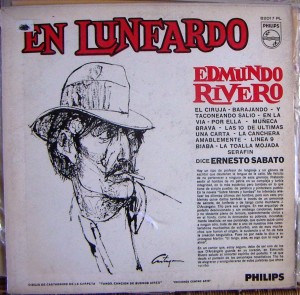 Below are some of these expressions and their meanings. Next time you visit Buenos Aires, you can also use them as you meet porteños:
"No le llega el agua al tanque"
This lunfardo expression is very much used to describe somebody who cannot think clearly or who has some problems understanding even simple concepts. It's a polite way of calling somebody a fool or stupid.
"Arrastrar el ala"
This is an expression that describes a situation in which somebody, generally a man, is in love with a woman and does everything he can to call her attention and seduce her so that she sets her eyes on him and decides to date him. This expression is taken from the natural world, as male birds drag their wings on the floor when they are interested in mating with a female bird.
"Lo atamos con alambre"
This is probably one of the most popular lunfardo expressions used nowadays in Buenos Aires. It is used to describe those difficult situations that are solved in a careless way, just to get rid of the problem without investing the appropriate time, money and resources to give a right and definite solution to the problem. It is understood that the provided solution will only last for a limited period of time.
"Bajar un cambio"
This lunfardo expression is told to somebody who needs to slow down a bit either because he's extremely enthusiastic about something or because he is overly nervous. This metaphoric expression comes from the automotive world as it is also applied to drivers when they need to slow down.
"Le faltan algunos jugadores"
This is a metaphoric expression used to describe somebody who seems to be insane either because he says or does things that are strange to normal people. It is a subtle way of calling somebody crazy.
"Hablar hasta por los codos"
This is a funny expression used popularly to depict somebody who loves speaking and who's always saying something. She speaks so much that words seem to come out not only out of her mouth but out of her elbows as well.
"Hacerse la mosquita muerta"
This expression is used to describe somebody who has done something wrong and acts like the most innocent person in the planet.
What about the expressions below? Would you guess what they mean?
¡Ni a palos!
Mala leche
Me pica el bagre
Tirar los galgos
Tomalo con soda
Hacerse la rata
Estoy seco
Pegar un tubazo