In Lunfardo, the word "pibe" means kid or boy. While the word is unique to the Rioplatense dialect, experts in Lunfardo disagree on its origins. Some say that "pibe" is derived from the word "pive" of the Genoese dialect of Italian, meaning "errand boy" or "apprentice." Another possible candidate for the forerunner of "pibe" is pivello or pivèll, of the dialect of Lombardy, meaning "youth" or, again, "apprentice."
An alternative theory—one that feels like more of a stretch—posits that the origin of "pibe" lies in the word "pebete," a term meaning incense, which arose from Catalan. The thought is that "pebete" came to refer to a boy or kid in an ironic sense, given that active young boys/adolescents are prone to some unattractive odors—the complete opposite of the pleasant smell of incense.
Related words in Lunfardo: piba (girl)
Usage examples:  Diego Maradona, one of Argentina's greatest soccer players, was nicknamed "El Pibe de Oro" or "The Golden Boy."
The word "pibe" appears in the lyrics of the 1945 tango "El sueño del pibe" by Juan Puey and Reinaldo Yiso.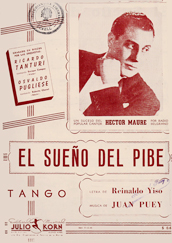 El sueño del pibe
Golpearon la puerta de la humilde casa,
la voz del cartero muy clara se oyó,
y el pibe corriendo con todas sus ansias
al perrito blanco sin querer pisó.
"Mamita, mamita", se acercó gritando;
la madre extrañada dejó el piletón
y el pibe le dijo riendo y llorando:
"El club me ha mandado hoy la citación".