Argentine Spanish is strewn with words and colorful phrases from Lunfardo, a rich vocabulary born on the streets of Buenos Aires in the second half of the 19th century. Now considered a fixture of the Spanish language in Argentina (especially in and around Buenos Aires) and Uruguay, linguists cite the use of Lunfardo as a defining characteristic of the Rioplatense dialect. Add a dash of Argentine flavor to your Spanish vocabulary with the Transpanish blog's ongoing feature highlighting some of the most frequently used terms in Lunfardo.
Of all the slang terms that languages use, it seems every language has plenty of words for police. One of these within the Spanish language is the Lunfardo word "cana". Although it is decidedly a Lunfardo word that made its way into Argentinian Spanish, its etymology is still disputed.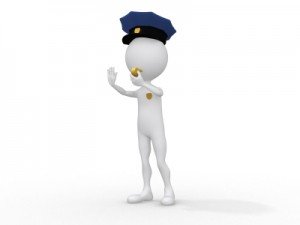 Free image courtesy of FreeDigitalPhotos.net
It has a long history, to be sure. The word "cana" actually appeared in the work of Cervantes to mean a police informer. But if it was not originally from the Spanish language, it may well have made its way to Spain from France, as some believe. The word has a striking resemblance to the French word "canne", which means a reed or cane. This etymology would make sense in the context of its current usage, since police officers historically have carried batons which are very cane-like.
Of course the explanation may be more simple—the word could just be an abbreviation of the Spanish word for canary, "canario", which has been used in Spain since the sixteenth century. Staying with that region as the word's source, another option is Spain's neighbor Portugal. Similar to the Portuguese word "encanado", literally meaning prisoner in a cage made of reeds, the word could have made it's way over to Latin America via Brazil.
There's a more humorous usage relating to being a prisoner, with a possible etymological history in reference to someone who has had a setback of some kind, and who may consequently find himself languishing in jail. Or it could have been a reference to re-hired police officers who had already retired, whom thieves used to call "canosos" for their grey hair.
But however the word made its way into Argentinian Spanish, it has managed to become entrenched in the culture. With frequent appearances in the lyrics of tango songs, and common usage in the general population, the Lunfardo word cana is a well-understood synonym for policia.