The term "limited English proficiency" (alternatively "English-language learner" or "English learner") is used in the United States to refer to a person whose primary language is not English and who has a limited ability to speak, read, write or understand English. There are laws at the federal, state and local levels that protect these individuals' rights, including access to governmentally funded programs and activities.
One of the most significant laws is Executive Order 13166, signed into law by President Bill Clinton on August 11, 2000. Entitled "Improving Access to Services for Persons with Limited English Proficiency", the Order requires Federal agencies to examine the services they provide, identify any need for services to persons with limited English proficiency, develop and implement a system to provide these services so that LEP persons have meaningful access to them. It also requires Federal agencies to work to ensure that recipients (agencies, nonprofits and other Federally funded organizations) provide meaningful access to their LEP applicants and beneficiaries. All recipients of federal funds and all federal agencies are thus required by law to take reasonable steps to provide meaningful access to limited English proficient persons. This means that, regardless of a state or local jurisdiction's official English or "English only" laws, entities receiving Federal funding must comply with Title VI of the Civil Rights Act of 1964 and the Title VI regulations prohibiting discrimination based on national origin, including those applicable to the provision of federally assisted services to persons with limited English proficiency. Title VI applies to a funding recipient's entire program or activity, even if only one part of the recipient receives the funding.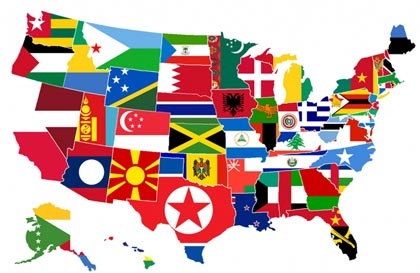 It is crucial to ensure that written materials routinely provided in English also are provided in regularly encountered languages other than English. It is particularly important to make sure that vital documents are translated into the non-English language of LEP groups eligible to be served or likely to be affected by the program or activity. Documents are considered vital if the information they contain is critical for obtaining federal services and/or benefits, or is required by law, e.g., applications, consent and complaint forms, notices of rights and disciplinary action, notices advising LEP persons of the availability of free language assistance, prison rulebooks, written tests that do not assess English language competency, but rather competency for a particular license, job, or skill for which English competency is not required, and letters or notices that require a response from the beneficiary or client.
The Patient Protection Affordable Care Act (also known as ACA or "Obamacare") includes requirements for insurers and the healthcare industry to provide translation and interpreting services for limited English proficiency (LEP) individuals in order to increase healthcare access for all, and explicitly requires translation of specific documents, including the Summary of Benefits and Coverage (SBC) and the Uniform Glossary. However, translating other documents may be implied; for example, provision of claim and appeal notices most likely must be translated since they are to be presented in a linguistically and culturally appropriate manner. The provision of these documents in plain and translated languages applies to all insurance plans, whether they are bought through an employer or privately.
Section 1557 of the Affordable Care Act builds on both Title VI and Executive Order 13166 and furthers protection from discrimination by including any health program or activity any part of which receives Federal financial assistance, including insurance contracts, credit and subsidies. Section 1557 also extends non-discrimination protection to the Health Insurance Exchanges (as well as any other entity or Executive agency that administers a program or activity established under Title 1 of the ACA).