One of the most important keys to a successful career as a translator is keeping your client happy. To do this, it's crucial to understand the difference between a "happy" client and a "steady" client. A steady client is no doubt happy with your work; this is a logical conclusion, otherwise he would not return with new job offers. A happy client, however, will think of you first when his company wins that large project. A happy client will value your attitude, reliability and accessibility and be happy to negotiate proper compensation for your work, knowing that there are no worries when he's put the job in your hands. A happy client (if a project manager) may well recommend you to his colleagues, bringing you even more work.
Keeping your translation clients happy involves what is really a series of common-sense principles that will set you apart from (and above!) the rest, help you build a strong relationship with your client, and keep him happy so that he'll keep coming back with those well-paid and interesting projects that keep translators happy, too.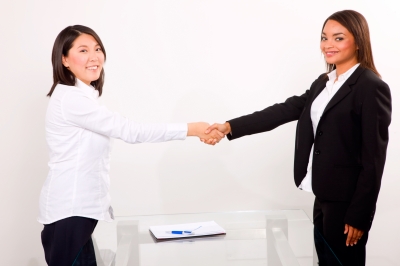 Follow these tips to build the kind of relationship that will keep your client satisfied and your agenda full:
Be open and honest about your skills, experience and production. Clients need to know that you can handle the job. No one is an expert in everything; if it's a field you don't work in, just say so. Being honest builds trust, which is essential to keeping your client happy.
Keep the lines of communication open. This can be especially true with new customers with whom you haven't yet established a relationship. If the delivery date is more than a few days away, consider giving a few updates as the days or weeks pass. This will let your client know that his project is important to you and that you are making good progress.
Don't be afraid to ask questions. As mentioned above, no one is an expert in every field, and sometimes the original text itself needs to be clarified. Admitting that you need more information is not a weakness; it is a sign of a true professional and will be welcomed by clients who put quality first.
Be available to your client. One advantage of freelancing is setting your own hours; the downside is that you need to be available to your customers in order to assess and accept potential projects, and this can cause conflict with your work-life balance. There's no perfect solution, but one way to set some limits is to make your availability (however many hours a day or days a week that may be) clear and then be absolutely consistent about sticking to it. This is also an important consideration if you work with – or are targeting – clients in distant time zones.
Stick to your deadlines. Your client will be very happy to turn the job over to you knowing that it will be delivered on time or before. Again, knowing that you can be counted on to keep your word is key to keeping a long-term relationship.
Pay attention to the details. Little things count! Attention to fonts, spacing, layout…even something as seemingly minor as whether one space or two should follow a period gives that extra bit of polish that will tell the client you care enough to offer not just a brilliant translation, but to deliver it in a package that's good to go.
Overdeliver. A little "added value" can go a long way. Everyone likes to have his expectations beaten, and surprising your client with an early delivery or letting the client know when you spot a potential error in the source text will show that you value his business and want to contribute to his success.
Request feedback. The best translators know that we never stop learning, and some of the best folks to learn from are our own peers. Ask your client for feedback, if appropriate for the project, and take the time to study it. No one likes to make the same mistake twice (especially with the same client), and letting the client know you've studied his feedback and learned something from it is a way to show your appreciation for his time and effort on your part.
Finally, bill on time. It's certainly counterintuitive, but customers sometimes find that translators delay billing them. Your hard work would generate the desire to demand the compensation due, yet it seems that invoicing is one of those "kick the can down the road" kind of tasks that some translators would rather do "mañana" because they've just received another "urgent" project request. Not only can this cause cash flow problems for the translator, but it can for his client as well. Invoicing a June project in October can throw off your client's bookkeeping, and this will most definitely not make him happy.
As a freelance translator, you can win and keep happy clients who will offer you interesting and well-paid projects by following the tips above.
Let us know what you think.