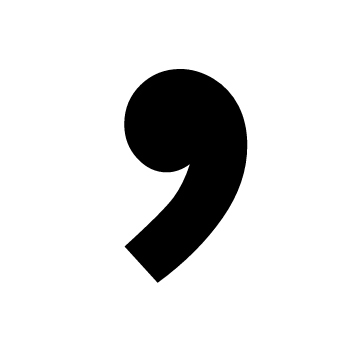 It's probably one of the most difficult forms of punctuation to get to grips with and, for some, it's starting to be more and more unnecessary. The question is, will the comma will eventually die out completely in the future? Let's take a look at the arguments…
Linguist and Columbia University professor John McWhorter is certainly in favor of putting commas to rest forever. His analysis of the subject falls into two broad categories. Firstly, according to McWhorter, it seems pretty fair to say that there's no list of definitive rules that explain exactly when and why one should place a comma in a sentence.
William Strunk Jr.'s The Elements of Style is one of the most popular texts for comma use, still in use today. One of the rules laid down in this 100-year-old publication is that commas should "enclose parenthetic expressions" and come "before and or but" when introducing an independent clause.
Even so, as McWhorter quite rightly points out, Strunk was wandering around in a pair of spats when he wrote The Elements of Style and so little of what's written in the publication needs to have very much to do with how we communicate today in our modern and highly technological society. With that in mind we can move on to the second category of analysis as laid out by McWhorter, that of the use of text messages, tweets and other kinds of conversational-style communications.
There's simply no need for commas (indeed they take up valuable character space) in tweets. Even top-notch journalists who write for national and international publications choose to tweet without commas. It seems that there isn't a need for the comma, because the essence of what one's trying to communicate in 140 characters is conveyed with or without them.
For example, a couple of years back Gmail went down – shocking! – and the entire world began tweeting sarcastic comments about the issue. Many of the snarling remarks came from professional journalists and few of them felt the need to use a comma. They were all more interested in getting their tweet out there into cyberspace for all to read.
An editor at BuzzFeed tweeted "whoa whoa guys I can't respond to all zero gmails at once." Writer and biographer Rachel Syme published a joking jibe that read: "I rubbed my genie lamp and wished for one of those Freedom programs that keeps you from email but I wished TOO BIG sorry guys sorry." And writer Jen Doll brought the entire Gmail nightmare to and end with: "I guess all those losers outside skiing or like at the movies or whatever missed out on this exciting adventure we just had."
Did you see any commas? Did you need them to understand what you read? No!
This is exactly the point that McWhorter is trying to make when referring to the outdated nature of the comma in our super advanced technological world.
Having said all that, there are obviously a band of comma fanatics out there that continue to worry about what might happen when people start writing sentences like, "Let's eat grandma" and not, "Let's eat, grandma", which are clearly two different things. But unless we all happen to be living in a version of Little Red Riding Hood, it's highly unlikely that we'll confuse the first sentence with the second anyway.
Comma fanatics are also worried that we won't be able to distinguish the difference between style; that we won't be able to produce content suitable for formal essays and articles as well as tweets and texting. The concern is that we'll end up having to read articles in the New York Times without commas, but maybe the future's not going to include long, formal articles in the NYT anyway. Let's face it, tweets, texts and other digital publications have already started to turn print journalism into a thing of the past.
What do you think? Should the comma stay or should it go?