Today's global marketplace leads business organizations to appeal to an international audience. Not only are products and services offered and requested from any place of the globe but also current and prospective clients are looking for companies that satisfy their needs and speak their own language no matter where they are located.
This being said, sending a clear, compelling and well-written message is of utmost importance. It is not only a question of politeness but of knowing what to say and how to say it in order to clinch sales. However, for most businesses, hiring multilingual copywriters is out of the question. And this is where translators arrive to the scene.
Translators are language specialists that are able to accurately express your message in another language while keeping the same intended meaning in such a way that the message sounds natural to the foreign audience, without appearing like a translation at all.
Hiring a translator is easy. There are translation agencies and freelance translators that are willing to translate your website and any other document you need. But there are some aspects you should take into consideration in order to make the most of their services.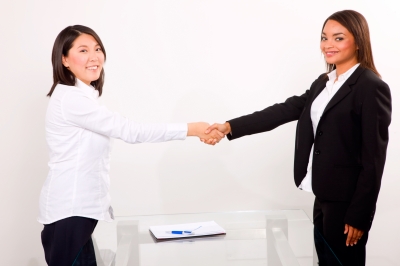 Image courtesy of FreeDigitalPhotos.net
Trust in your translator
This is probably the most important aspect behind making the most of hiring a translator's services. A good, professional translator is always on your side. In other words, he will put all his expertise in satisfying your needs: your internal documents will be easily to understand by your foreign-speaking employees, your advertising material will attract sales for a multilingual audience and your website will be convincing.
Hiring a translator will have a huge impact on your business' global strategy as it will allow you to reach out to new markets and potential clients as well.
Be clear: Avoid misunderstandings!
Once you find a translator or translation agency you think will be a good fit for your project, the next step is to discuss prices and turnaround times. Unless you really need it done urgently, it is highly advisable that you allow the translator enough time to work on the text so that he can provide you with the best possible translated version.
If it is the first time you are working with a language professional and you are not sure whether he's charging a fair rate for the job, don't be afraid to request quotes from different providers. There are also some websites and organizations where you can check the average current rates. However, you should take into account that the final price will depend on the length of the text, the language it should be translated into and whether it is a general text or a text that requires a special knowledge (e.g. medical, legal). Avoid asking the translator for a "free sample", especially if the sample to be translated is longer than 200 words. No one likes to work for free.
Special info the translator will require
While discussing the translation process with the translator, don't forget to be very clear about your target audience. This is a valuable piece of information that will help the linguist choose the most accurate words to communicate what you want to say in a way that you speak to your customers naturally.
It is also worth mentioning if you will have more documents to translate. Remember that many translators are willing to offer discounts for large volumes of work or are more flexible with their payment requirements if they know you'll be offering them several documents to translate.
Editorial process
Make sure the editorial process is included: The translated documents need to be proofread by a second translator to spot mistakes (grammar, punctuation, vocabulary, spelling, etc). Most translation agencies include this service in their rates.
Remember that translating is not an exact science and, therefore, there can be different versions of the same text. If you decide to hire an editor/proofreader,  ask him to be clear about which are corrections or amendments to make and which are purely suggestions regarding style or wording.