Translators around the world have never had it so good.  With the translation business blooming, they seek to stand a lot from their work. The methods by which translators get paid are many and varied. Many agencies prefer to pay their clients through ACH or Automated Clearing House, in which, it is possible to deposit money directly into the translator's bank account with the help of electronic financial transactions. Known as direct deposit method, it offers great convenience.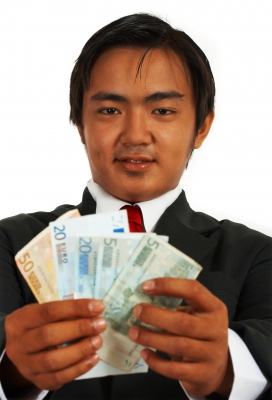 Image courtesy of FreeDigitalPhotos.net
Another payment method that has become popular with both employers and translators is Paypal.  Paypal basically is an e-commerce website which allows transactions to be made electronically. It has become a great platform for companies and organizations to pay their translators without the need of traveling or any paper-work.  Withdrawal or transactions from the Paypal account to bank account and credit cards are possible. It is free to register and is a highly cost-effective option for many translators worldwide.
Moneybookers is also an international e-wallet system that allows for electronic transactions. The money employers pay can be directly credited to the Moneybooker's account.  Money can be then withdrawn from the account to a bank account or onto a credit card. Electronic transfer is possible only if the bank the translators use is connected to a SWIFT network and it does not operate in some countries.
Wire transfer can also be used to transfer money from one bank account to the other all over the world. All international bank transfers work along with the SWIFT system. Wire transfers are very fast, however, international wire transfers can prove to be very expensive. The entire process related to the transactions is very complicated as all the details regarding bank accounts have to be completely accurate before proceeding to the next step. Transactions can occur within minutes if they are within the same country and a few days if they are of international nature.
These days many of the organizations offer their own credit card with the help of services such as Payoneer. Translators can transfer funds from their online account into the credit card and then use it according to their requirement. Thus, the number of payment methods offered to translators are numerous and depending on their preference and requirements, a particular payment method can be chosen which both the employer and translator are compatible with.