As the marketing atmosphere changes and evolves faster than ever with new technological developments and new ways for companies to connect with their customers, we are seeing more companies reach out to their Spanish-language audiences. One way that they are doing this is by translating their web pages into Spanish. But they're also going further than simply providing information to the Latin American and Caribbean markets in the Spanish language.
Marketers tend to follow media use among groups very closely in order to know where they need to be marketing their products, and how they need to be marketing them. So it's natural that they have taken note recently of a marked increase in social media use among Latino populations in the U.S. as well as throughout Latin America itself. While some social media sites that are obscure in the U.S. have a wider audience in the Latin American region, like High 5, the most popular site globally—Facebook—has become far more popular among Spanish speakers just in the past year or so.
Even a disappointing IPO earlier this year has not detained the growth that Facebook is currently experiencing in the Latino market, nor has it watered down the interest that companies have in reaching its user base. The social media analytics company, Socialbakers, published a new infographic a few months ago which shows that this user base has increased by 47% over the past year, reaching 168 million active monthly users in the region. In a word, it's transforming the way products are marketed to Latinos.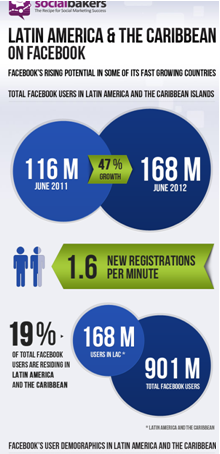 Source: Socialbakers
And as this population becomes more and more the focus of companies with an international or regional reach, various kinds of information will increasingly be available in the Spanish language. Now, it is not only that Google and Facebook are available in Spanish, but the content which they disperse is, too—in the form of advertisements, web pages, videos and more. As a result, the companies that will most successfully manage this new environment and use it to their benefit, will be the ones that can seamlessly go from an English-speaking audience to a Spanish-speaking one, and back.
As with so many other professions, localization professionals and Spanish translators may very well find their new home in marketing and social media in the months and years ahead.